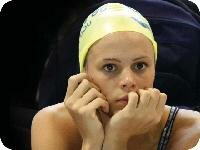 "Hello France!"
The women?s World No. 1 about winning and the changes of her life.

Exclusive interview with Laure Manaudou
by David Rouger LEN Marketing Agent



A genuine talent with plenty of achievements behind her and nowadays always some fuss around her. The private life of Laure Manaudou made the headlines but it?s her swimming which should grab the attention, and admiration of the World. She might say hello to France as she is home again.

David Rouger: You had an eventful year in 2007. Within less than six months you trained in different places, working with various coaches. Do you have the feeling that you improved or was it a problem to change training methods?

Laure Manaudou: Indeed, it was a wonderful year, rich in events. I learnt a lot of things and all this helped me to become more mature. Each coach possesses their own style, and each of them enabled me to become better.

D.R.: You achieved fantastic successes with Philippe Lucas. Perhaps it is not an exaggeration to say that you became a world class swimmer while working with him, as your Olympic title shows. Have you ended your relationship for good, or has it ever occurred to you to work with him again? Are you still in contact with him?

L.M.: First, as you can see around the pool, I always keep a good relationship with Philippe Lucas. He?s a good coach, who helps many swimmers improve their performances. For the time being I have found the ideal training facilities that meet my needs perfectly. However, you never know what the future holds and, like all athletes, I constantly challenge myself.

D.R.: Will you take part in the European Championships in Eindhoven? If so, how important do you think it is to achieve good results there? Is it possible to perform well at two events ? in this case in Beijing and in Eindhoven ? during an Olympic year?

L.M.: The European Swimming Championships in Eindhoven are a major competition and it?s a great honour to take part in this event. In fact, I will go into this competition with determination, even if my main target is the Olympic Games. My training programme is focused on this objective; nevertheless I always give the best at each competition.


If you would like to know interesting facts about Manaudou?s private life, all you have to do is to order the latest issue of the LEN Magazine!