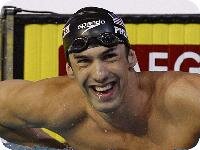 "Hello LEN!"
The men?s World No. 1 about his rivals
(if there is any)

Exclusive interview with Michael Phelps
by Steven V. Selthoffer (European correspondent for the Swimming World Magazine)


Ann Arbor, Michigan, USA ? After leaving the pool, Michael Phelps went to Bob Bowman?s poolside office at Canham Natatorium, University of Michigan to talk with LEN and to his European competitors and friends about his preparations for the U.S. Olympic Trials and Beijing. Michael is accompanied by Peter Vanderkaay, Davis Tarwater, Chris DeJong, Eric Vendt and Kaitlin Sandeno, all core team mates from the Club Wolverine training group.

In an era of unbridled self-promotion, spoiled, superstar athletes, Michael Phelps and his Club Wolverine team mates run contrary to the trend. Politeness, honesty and sober judgement, are the adjectives that best de fine Michael, his team mates and the conversations that followed. There are no exaggerations, simply genuine honesty, combined with a down-to-earth sense of humour that helps anesthetize the emotional and physical effects of training in preparation for the Beijing 2008 Olympic Games. Phelps, his team mates and Bowman never mention it, but, together they could possibly pull in 10-12 medals in Beijing, placing their training group in their own special category of ?Über-phenomenal.? Possibilities are never discussed, just hard work and incremental improvements.

In the USA, December and January are tough months for top swimmers each day, every day. Traditionally it is the time during the holidays, after U.S. National S/C Championships when American coaches design their most intense and difficult workouts for the year, combing ?endurance and quality? training programmes to drive athletes past pain barriers they didn?t even know existed. While the rest of the world settles down to a festive holiday season over Christmas and New Year, American swimmers are training, twice, three times a day, in the hardest sessions of their lives, alone and secured in the U.S. Olympic Training Center in Colorado Springs, Colorado. The coaches, staff and swimmers are laying the ground work for the U.S. Olympic Trials and in Beijing, relaxation and celebrations can wait for another eight months. Having just emerged from a difficult morning workout and still hurting, the swimmers climbed out of the pool to speak with LEN. Aggregating the interviews, Michael Phelps and his team mates now share their personal viewpoints?

Steven Selthoffer: Michael, tell me about this morning?s workout...

Michael Phelps: We went 6,500 meters (still hurting from the sets). On a typical day, I wake up at 6:45-ish and begin workout at 7:30am until 9:30am. In the afternoon we do lifting and dry land at 3:30 pm. We do dry land everyday, except Sundays. We lift dryland 3 days a week, and let me think, we do medicine ball 3 days a week, too.

Kaitlin Sandeno: Mostly, I?m doing IM work, but, Bob (coach Bowman) always has an individual workout plan. You can never ask too many questions when you see the workout he gives you (laughter). Sometimes you have a comment, but, you have to do what it says on the paper.

S.S: (Smiling) It?s no democracy is it? (referring to any coach/athlete relationship)

K.S: Right! (a small laugh...)

Chris DeJong: Life under Bob is well?He never really lets up on us. He really knows how to push us, especially when we don?t want it. He gets in our face sometimes. It?s tough. We?re getting pushed on aerobic and VO2max on what our bodies can take. I respond 90% positively to the workouts. I?m happy with where we are at in our training. It?s a good training environment.

S.S: Who do you like training with? Who is next to you in the lane?

M.P: It?s different everyday. There are days when I work on freestyle, or on breaststroke, or IM or distance freestyle, or sprints, so it?s different every day. There is always somebody doing really well and swimming fast.

Peter Vanderkaay: Michael switches up a lot. I?m working on 100, 200, and 400 freestyle. That?s my main focus. I am in the lane with whoever is doing freestyle.

Davis Tarwater: I?m concentrating on 100 and 200 fly. I?m mostly in the same lane with Peter Vanderkaay. Because I might swim 100 and 200 free at the Trials.

S.S: On the 800 free relay. They are going quick. (Club Wolverine recently set a new US Open and American record at U.S. S/C National Championships of 6:12.43)

M.P: Yeah, I know man! It?s like that every day with these guys? (Van -der kaay, Tarwater, DeJong, separated by only 1.20 seconds in the 200yd freestyle) We?re going at each other AND when you add Eric Vendt into it!! I mean it?s even crazier!


If you would like to find out more about Phelps?s recipe for success, all you have to do is to order the latest issue of the LEN Magazine!