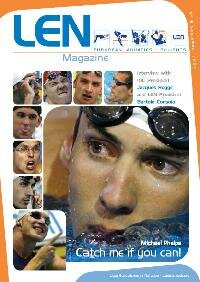 The contents of the September issue

Swimming
Clash of dates
Open de Paris and US Nationals at the same time. Why?
US remain on top
Times were better in Indianapolis, but Paris also brought some great results.
From another planet?
We know Michael Phelps? achievements. But do we know him as a person? A portrait of a great champion everyone tries to catch.
Rings of change
IOC President Jacques Rogge answered the LEN Magazine?s questions on swimming?s role in the Games, the controversial scheduling of finals in Beijing and about the doping issue.
A man and a woman
The Manaudou-Marin story from different perspectives. France vs. Italy. It?s not the World Cup final ? but steals the headlines.
All for the tall ones?
The size, the height of swimmers are becoming more and more important. At least some think so.

LEN
Around Europe
News from the 51 member federations.
Heads of the family
It?s time to introduce the federations? presidents to everyone. On two pages, with photos.
Europe and the World
Interview with LEN President Bartolo Consolo about his years at the helm and the actual challenges Europe should face next.
Activities, changes, calendar
From the LEN headquartes: an overview of LEN activites including the latest decisions of the Bureau, and all events between 2007 and 2009 ? bids are welcome!
Introducing the TSC
All you should know about the LEN Swimming Committee.

Swimming II
The untouchables
Some World Records are almost 20 years old. Analysis why those are hard to break, plus portraits of the legends still holding the WRs.
Stalemate
OK, no slap in the face. Then what? Ways of motivation in a demanding sport, comments from the best swimmers.
With Pieter but without Inge
Eindhoven will see only one of Holland?s legendary sprinters: Hoogenband swims on, de Bruijn opted to finish.
I am a human
Interview with Poland?s greatest star, Otylia Jedzrejczak. No, we didn?t mention that topic.
Pages to see
Our partners and friends: introduction of the world?s best swimming magazines. Order them, too!

Diving
Common platform
The greatest stars find it interesting to have mixed doubles. Platform would be nice ? 3m is out of question.

Water polo
Special guest stars
Serbia, Croatia and Hungary feed the the Mediterranean clubs. Foreign players are the key for success as proved again in the Final Four.

Synchro
Ballet, bikinis ? guys?
According to LEN Vice President Gennady Aleshin, the sport should be similar to ballet. Bikinis might be an option. Guys? No, it?s a different story.

Poolside
Letters, tid-bits
Our readers? feedback and some interesting stories: old stars of water polo, a woman referee, plus presidents, ministers and governors ? all in the water!