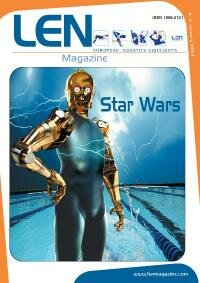 The contents of the 2009 January edition
Different lanes
Debate on the swimsuit issue
Black suit, dark ties...
The swimmers and the scientists say: turn the clock back
WR-machine: 108 cogs
Background and analysis of the season producing 108 WRs. Is it truly amazing?
Sprint: the French Revolution
Currently, the fastest men are from France. The story of Bernard, Bousquet, Gilot and Leveaux. Who is the best?
50m vs 25m
Past and present: debate on the long course ? short course championships
Around and about
Around the pools, about the stars. The best stories of the aquatic world
No secret, here comes the video!
Technological breakthrough: not suits ? cameras!
A conflict solved
About the news rules recently adopted by the Royal Belgian Swimming Federation
Season-ticket for Olympic glory
Interview with Denes Kemeny
All roads lead to Rome
How the financial crisis affects the preparations for this year?s World Championships
Swimming
Two men and two women in a relay? Not just fun!
Diving
Like figure skating: pairs.
Not on ice ? in water!
Synchro
Men can enter later. First reform the judging system!
Water polo
Let?s go to the beach!
Open Water
The first experiences in the mixed events
Our friends
The most interesting stories from our partner magazine
Activity
Happenings around LEN plus the usual calendar
Family news
Round-up from the 51 member federations
Awards
The winners and the prizes: Bernard, Sautin, Ilchenko
Best shots
The winning photos among 166 entries, voted by a secret ballot
Once upon a time...
...there was a fig-leaf

Other news: