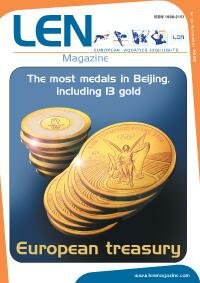 The contents of the post-Olympic edition - November
Europe on top

Interview with the new LEN President, Nory Kruchten
Still ruling the world

Europe tops the overall aquatics medal-table: no other continent won gold medals in 4 disciplines. That?s something we can be proud of.
Alain Bernard

No speed limit
Rebecca Adlington

A fabulous personality
Federica Pellegrini

No film, no reality show
Britta Steffen

Meeting a good psychologist can make a real improvement
The Dutch relay

In fifth gear: these ladies are fast and smart
Anastasia Davydova and Anastasia Ermakova

Now it?s time to say goodbye?
The Russian synchro team

Eight soldiers needed
Maarteen van der Weijden

There is a way back
Larisa Ilchenko

She is unbeatable
The Hungarian water polo team

Three-time Olympic champion
The Dutch water polo team

Looking for role models?

An overview of the Olympic champions
With empty hands

What happened to Laure Manaudou, Otylia Jedzrejczak, Pieter van den Hoogenband, Mateusz Sawrymovicz?
Michael Phelps

He is only 9th! (in poker)
Photo competition

Selection of the best shots
From the Headquarters

Activity and calendar
Family news

51 countries? aquatic news
Our friends

What can you find in other aquatic magazines?

Other news: