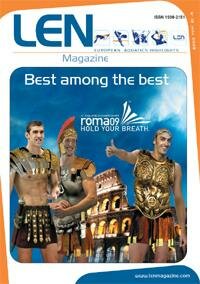 The contents of the 2009 June edition
ON TOP OF THE (SWIMMING) WORLD
Europe should be united before the FINA Congress
Previews of the World Championships
Gladiatorial spirit awakens
It?s going to be a thrilling event, says Craig Lord.
But first, let?s check the suits!
Europe

Should be better than in Melbourne (and Beijing)

America

No way to ease up!
Oceania

New look dolphins are ready to make a splash
Asia

Has Asia arrived in the fast lane?
Africa

In the lead: Coventry and Mellouli
All winners in all events

Based on the experts? expectations, sent from all over the world
Men?s swimming

Only 5 golds for Phelps?
Women?s swimming

Aussie dominance
Diving

China can make the perfect 10
Synchro

Russia vs.Spain: the heat is on
Open water

Challenging the old guard
Water polo

New faces become aces?
Rebuilding a shattered life
Interview with Danilo Ikodinovic after his horrifying crash
From the Headquarters

Family News

Partner Magazines

Altered images